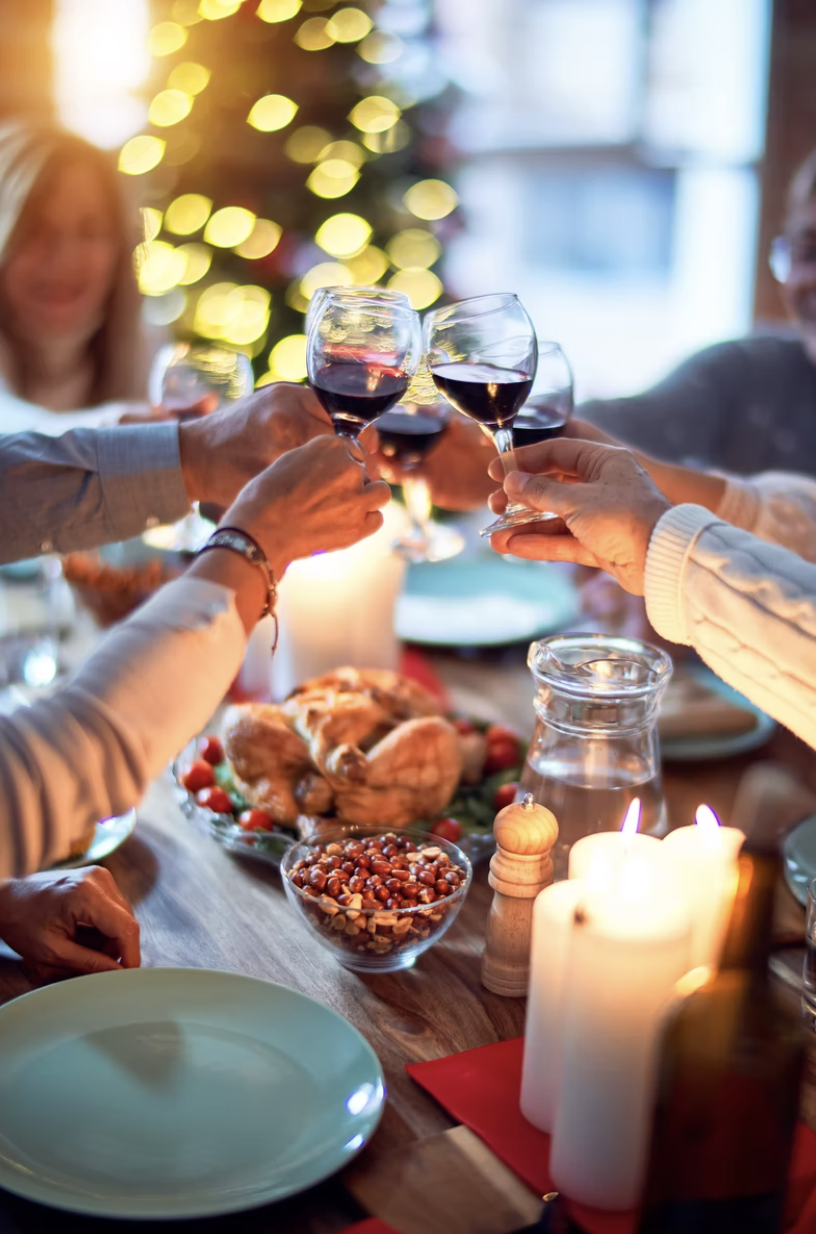 Stressed out about gaining weight during the holidays? These expert tips can help you enjoy the season without putting on the pounds and bashing yourself for it later.

Tips to Help You Avoid Overeating During the Holidays
Here are a few ideas to help you get through the holiday season without worrying too much about gaining weight:
Plan ahead. If you are invited to a holiday party or family gathering, bring something lightweight with you, like a raw veggie platter with a spinach or yogurt dip. Be sure to eat from that platter first before you dig into any holiday cookies, cakes or pies.

Drink lots of water. Some people will drink a glass or a bottle of water before attending a holiday get together, and that is a good thing to do. But when you arrive at the party, have another glass or bottle of water before you eat. That will help combat the "I am so hungry and must eat everything in sight" syndrome that happens to most people around the holidays.

Watch your alcohol intake. Speaking of staying hydrated, make sure you are drinking water between any alcoholic beverages. It will keep you hydrated as well as slow you down between drinks. As easy as it is to want to try all the foods in front of you, it's equally easy to want to sample different alcoholic beverages: eggnog, punch, wine. Remember, alcohol can sabotage your self control and fool you into thinking you still have room in your stomach for a few more slices of pie.

Eat slowly. Are you one of those people who fill up their plates with so many goodies and eat them like it is a contest? Slow down, and remember it is not a race. Eating too fast is a major reason why people overeat. It can take 15 to 20 minutes for your brain to send the signal to your stomach that you're full and you need to stop eating. And if you are not careful, during that time period you can cram an awful lot of food into your stomach.

Be less sedentary. Don't forget to keep moving. Not only is exercise good for your heart and bones, it's good for your mental health! Even a short work out can stimulate the body to produce endorphins—the body's feel-good hormones. Unfortunately, when the colder-weather months are upon us, many people stop exercising and start to eat more. Don't fall into that trap. Before you say that your schedule doesn't have an extra 30 minutes, divide it into three 10 minute segments. Simply stretching in the morning and before bed and suggesting a walk to your loved ones can help.

Consider intermittent calorie cutbacks. Reducing your consumption of food either in advance of a family gathering or holiday party or the day after not only helps with weigh loss (and weight maintenance) but studies also show there are other benefits, too. If you want to try this approach, have some "light" food on hand so you don't go overboard when you eat again.
Take some time to enjoy the holiday season and attend family gatherings and parties without the fear and stress of gaining too much weight. When you plan ahead and have the right attitude, you will be able to focus on the fun, and no so much on the wrong foods. And don't worry, X-Force Body will be right here to help you combat those holiday calories!
Take the first step.
Complete the form and one of our coaches will contact you to talk about your fat-loss goals and schedule your FREE workout!
No obligations, No pressure. Ever.
Try X-Force Body one time and you'll see why we're the ONLY choice for rapid, sustainable (and FUN) fat loss.
"I feel stronger. I sleep better. My eating habits have completely changed. I have a lot of energy. I was also taking thyroid medications when I started. Since then, I'm down to half of the medications I was taking." *

Maria Torri, Palm Harbor
Attend an upcoming Discovery Session and learn more about the X-Force Body Program!
Who's X-Force Body?
Busy people don't have time to waste on exercise that doesn't work. At X-Force Body, our mission is to inspire you to become leaner, stronger and healthier so you can live your best life. We deliver 30-minute strength workouts, twice per week with an expert coach. We will help you look and feel your best in a fraction of the time.
We are driven to help others create the freedom to be who they want to be, while becoming healthier, happier and more confident. Learn More.
Recent Posts