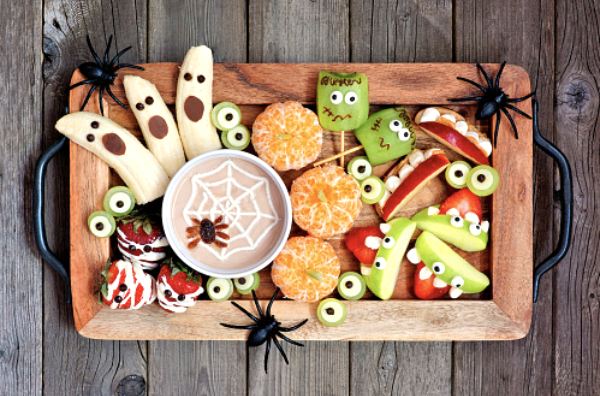 It's the time of year that many people love. Halloween brings the fun for everyone! With the fall festivities comes temptation… Sweets, treats, drinks and more. Here are some tips that we've compiled to make sure you have all the fun without much of the guilt.
One way is to not have high-calorie candy in your home. Instead, promote healthier choices by offering less sugary treats. It's also a great way to be more inclusive of children who may have diabetes or other dietary restrictions when it's time to trick-or-treat.

For the Trick-or-Treater
Fill up first. What kid doesn't want to eat their favorite candy right when it goes into their trick-or-treat bag? Having a healthy dinner BEFORE your kids go trick-or-treating can reduce their temptation to snack while walking or to overindulge, because their tummies will be full.

Bag the monster bag. Choose or make a smaller collection container for your child and steer clear of the pillow case method. If you encourage kids to only take one piece of candy from each house, they'll be able to visit more houses in the neighborhood.

Get moving. Get some exercise by making Halloween a fun family activity. Walk instead of driving kids house to house will increase calories burned while scouring for sweets. Set a goal of how many houses or streets you'll visit, or compete in teams to do as many as you can. Bring a bottle of water and a flashlight, and wear comfortable shoes for walking.

Look before you eat. Check expiration dates and inspect all edibles before allowing children to eat them. Don't let children eat anything with questionable or unknown ingredients, especially if they have food allergies.

Have a plan. Halloween can be a great time to talk with kids about moderation and making smart eating choices. Plan in advance how much candy they'll be allowed to take at each house, keep, and eat. If they're old enough, let them help decide what to do with excess candy. See our suggestions later on in this article.

For the Party Host
Up the fright factor. Serve healthy snacks dressed up in the Halloween theme. There are lots of creative ideas being shared online at this time of year, like banana ghosts, apple monster mouths, carrot witch fingers, and candy-corn-colored fruit popsicles or parfaits!

Play with food. Incorporate healthy foods into party activities, such as decorating oranges like Jack-O-Lanterns and bobbing for apples.

Keep 'em on their feet. Include plenty of physical activities, like a zombie dance party, three-legged monster race, spider crawl, or pumpkin toss.

Rethink the drink. Don't forget that cutting back on sugary treats includes soda and sugar-sweetened beverages. Offer water, unsweetened tea, 100% juice, or fat-free/low-fat milk instead. Make a Halloween-themed punch from sparkling water and a splash of 100% orange juice, garnished with plenty of orange slices and black grapes or blackberries.
For the Stay-At-Home Crew
No self-service. Hand out treats to each trick-or-treater – one per child – instead of letting them decide how much to take. If you have more than one item, ask them to choose which they prefer. This can help you get control of your Halloween budget, too!

Avoid the whole mess. Want to avoid candy altogether, not to mention masses of kids at your door? Dress your family up in costumes and go see a movie or deliver healthy Halloween treats to your local police or fire station, nursing home, or children's hospital.

Be that house. You don't have to pass out candy on Halloween. Start a new tradition and give out healthier treats or non-edible items. Don't worry, we're not talking about toothbrushes! Get creative, and keep it colorful and kid-friendly. Here are some ideas.

Healthier Treats:
Clementines, blood oranges, or oranges decorated like Jack-O-Lanterns (with non-toxic ink)
100% juice boxes or pouches
Snack-sized packages of pretzels, popcorn, graham crackers, dried fruit or vegetables, trail mix, nuts, or pumpkin seeds
Bouncy balls and small toys
Stickers, pens, stamps and coloring books
What to Do with Excess Candy
Afraid you'll be dealing with an excess of Halloween treats until long after Valentine's Day? Here are some ideas for enjoying the evening's haul responsibly and getting rid of leftover candy:
Let each child keep enough candy to have one or two pieces a day for one or two weeks (long enough for the excitement to wane). Throw away, donate or re-purpose the rest.
When your child asks for a piece of candy, pair it with a healthy snack: an apple, a banana, some nuts, or celery with peanut butter.
"Buy back" candy from your child with money or tokens they can trade in for a fun activity: a day at the zoo, an afternoon playing at the park, going ice skating, or a day at the pool.
Some dentists' offices have buy-back or trade-in programs, too.
Save it for holiday baking.
Save it to fill the piñata at the next birthday celebration or give out with Valentine cards.
Use it in an arts and crafts project or to decorate a holiday gingerbread house.
Donate excess candy to a homeless shelter, children's hospital, or care package program for troops overseas. A familiar sweet treat from home can be comforting at the holidays.
Have no fear – you got this! Let's make Halloween fun, spooky, and a little healthier, too.




Take the first step.
Complete the form and one of our coaches will contact you to talk about your fat-loss goals and schedule your FREE workout!
No obligations, No pressure. Ever.
Try X-Force Body one time and you'll see why we're the ONLY choice for rapid, sustainable (and FUN) fat loss.
"I feel stronger. I sleep better. My eating habits have completely changed. I have a lot of energy. I was also taking thyroid medications when I started. Since then, I'm down to half of the medications I was taking." *

Maria Torri, Palm Harbor
Attend an upcoming Discovery Session and learn more about the X-Force Body Program!
Who's X-Force Body?
Busy people don't have time to waste on exercise that doesn't work. At X-Force Body, our mission is to inspire you to become leaner, stronger and healthier so you can live your best life. We deliver 30-minute strength workouts, twice per week with an expert coach. We will help you look and feel your best in a fraction of the time.
We are driven to help others create the freedom to be who they want to be, while becoming healthier, happier and more confident. Learn More.
Recent Posts