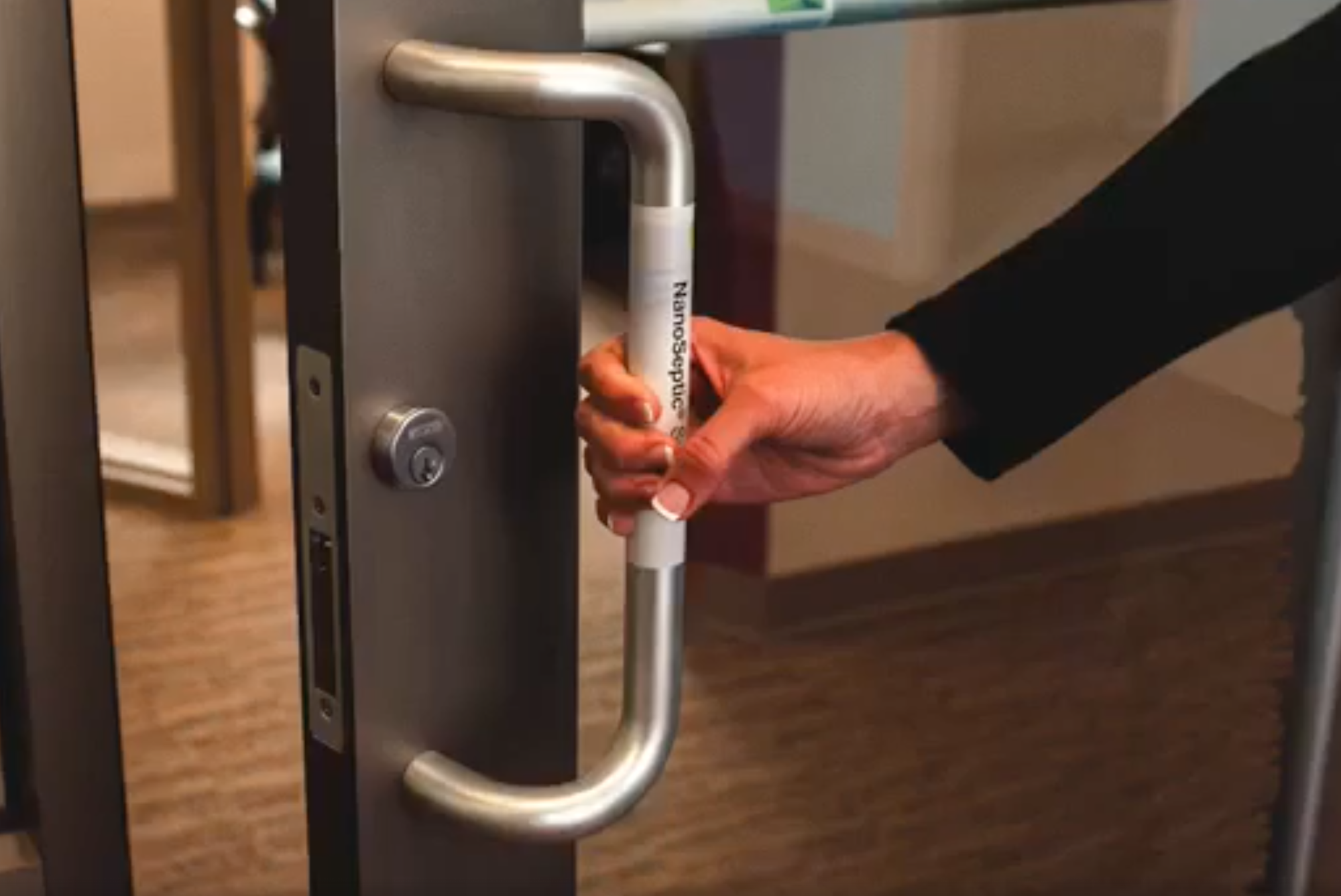 As we prepare to re-open, we have increased our efforts to keep you safe. Below you'll find more information about the devices we've purchased and methods we are putting in place to protect you.
Nanoseptic Door Handle Covers 
These devices act as continuous cleaning agents and kill germs and viruses after every touch. You'll find these covers on all door handles in our studios.
Electrostatic Sprayer
We've purchased a Chlorox 360 Electrostatic Sprayer. This device will be paired with Chlorox disinfecting and sanitizing solutions. These units and products are used by hospitals and all the major airlines to kill germs and viruses and will be used to disinfect and sanitize all of our equipment.
Ultraviolet Light
Because ultraviolet light kills all types of germs and viruses, we've added Ultraviolet light features to all of our air conditioning units to further assure that the air circulating around our facilities is germ and virus free.
Hand Sanitizer Stations
Stations are placed at both locations and are filled with enhanced hand-sanitizer that will kill germs for up 4 hours.
Sanitation Schedule 
The process of disinfecting and sanitizing our equipment, floors and walls will be done in regular intervals throughout the day. Advanced cleaning will take place every two weeks.
In addition to these measures, we will continue to enforce strict social distancing guidelines. We never have more than ten people in our studios at a time and have no physical contact (high-fives, hugs, etc). We have a large supply of cleaning products (over 200 gallons!) and will be using them liberally. If you have any questions regarding these safety measures, please do not hesitate to reach out.

Hang tight X-Force warriors, we plan to reopen as soon as it is permitted.
Take the first step.
Complete the form and one of our coaches will contact you to talk about your fat-loss goals and schedule your FREE workout!
No obligations, No pressure. Ever.
Try X-Force Body one time and you'll see why we're the ONLY choice for rapid, sustainable (and FUN) fat loss.
"I feel stronger. I sleep better. My eating habits have completely changed. I have a lot of energy. I was also taking thyroid medications when I started. Since then, I'm down to half of the medications I was taking." *

Maria Torri, Palm Harbor
Attend an upcoming Discovery Session and learn more about the X-Force Body Program!
Who's X-Force Body?
Busy people don't have time to waste on exercise that doesn't work. At X-Force Body, our mission is to inspire you to become leaner, stronger and healthier so you can live your best life. We deliver 30-minute strength workouts, twice per week with an expert coach. We will help you look and feel your best in a fraction of the time.
We are driven to help others create the freedom to be who they want to be, while becoming healthier, happier and more confident. Learn More.
Recent Posts