Leaner! Lighter! Healthier! Stronger!

Discover the revolutionary exercise machine that will reshape your body—and transform your life.

GIVE US 30 MINUTES TWICE A WEEK,
WE'LL GIVE YOU A WHOLE NEW BODY!

---

X-Force Body is the most efficient fat-loss and muscle-building strength program in the world!

---

You'll Get Into The Best Shape of Your Life In Just 6 Weeks!

INCINERATE BELLY FAT
BOOST YOUR METABOLISM
IMPROVE YOUR HEALTH FAST
BUILD AND TONE MUSCLE
LOOK AND FEEL YOUNGER
BULLETPROOF YOUR BODY!
LOWER DIABETES AND HEART DISEASE RISK
SLEEP BETTER AND LONGER
CLEAN UP YOUR DIET
GET MORE ENERGY
CHANGE YOUR LIFESTYLE (AND MAINTAIN IT) FOR LIFE
---
What's the Secret?
Our X-Force Body machines from Sweden make a special technique called "negative training"
so much easier!
---
THE EXERCISE SCIENCE BEHIND X-FORCE BODY
Found only in two locations in Florida, Gainesville and Palm Harbor, the X-Force Body program is built upon the science of "negative-accentuated" strength training. By doing the lowering (or negative) part of a lift slowly, you activate can key hormones in your body that enhance fat burn.
X-Force fitness machines employ a patented "tilting weight stack" that automatically increases resistance 40 percent during the lowering phase of a lift. As a result, you exercise more intensely for far less time and will:
Elevate your fat-burning metabolism during and after hours after your workout.
Stimulate the production of interleukin 6 and other chemical messengers that help to breakdown fat storage in fat cells.
Boost bone density and even grow new bone cells to protect against osteoporosis.
Reverse age-related muscle loss and build strength for life.
Lower levels of the stress hormone cortisol, reduce systems of anxiety and depression and improve sleep.
Improve blood sugar levels, reducing risk of metabolic syndrome and type 2 diabetes.
Transform your body with the most effective and technologically advanced strength-training system available.
Meet Dr. Ellington Darden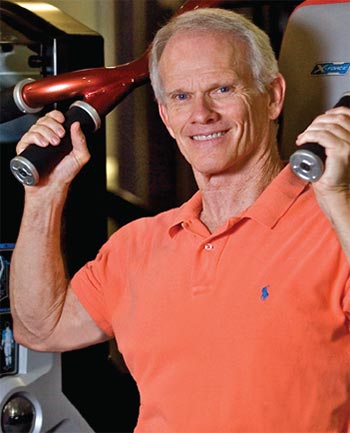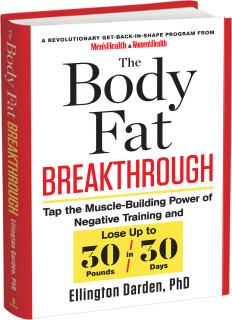 Ellington Darden, PhD
Exercise Scientist and Developer,
X-Force Body Program
The X-Force Body program was developed by renowned exercise scientist Ellington Darden, PhD, author of more than 50 books, including The Body Fat Breakthrough.  While researching the principles of X-Force Body for that book, Dr. Darden put more than 100 men and women through a 6-week program of twice weekly X-Force workouts, superhydration, a carbohydrate-rich meal plan, and extra rest and sleep. The results were remarkable, with many participants losing up to 30 pounds in just 30 days* and still maintaining their new bodies and lifestyles more than a year after the program concluded.
*Results not typical. Individual results may vary.
LOOK AT THESE AMAZING RESULTS!
Dr. Paula Golombek
Lost 32 pounds of fat, gained 8 pounds of muscle*
*Results not typical. Individual results may vary.
Before: 148.2 lbs
After: 124 lbs
What they're saying about the X-Force Body program
"I was extremely skeptical at first...but I felt for every ounce of effort I was putting in, I was seeing results. When I saw the transformation, it was amazing. Kudos to Dr. Ellington Darden and Joe Cirulli. They really packaged this program well. The main thing is that you must be committed." *

- Brian Brenhoch, Palm Harbor

"One of the problems I had was glucose control. I hadn't been able to keep it under control naturally very well. After only two weeks, I had some really positive changes in that. After three weeks, it was reading around normal range." *

- Jeff Stern, Palm Harbor

"X-Force Body has been a life-changer. Where I used to work out, I used to have knee issues. Since I've started X-Force, that has gone away. The best part about coming in here is the energy, the positive energy. Everybody's just psyched, motivated, ready to go. It just pumps you up even more once you're here." *

- Cheryl Albritton, Palm Harbor

"When I discovered X-Force Body, it just really catapulted me to another level. It only takes two 30-minute workouts a week, so it was like perfect for my schedule, because I run my own business and I have two small children that require a lot of time. So, for me, it's just been ideal." *

- Michael Lamando, Palm Harbor

"I feel stronger. I sleep better. My eating habits have completely changed. I have a lot of energy. I was also taking thyroid medications when I started. Since then, I'm down to half of the medications I was taking." *

- Maria Torri, Palm Harbor

"

I'm impressed by the science behind X-Force and the technology of the equipment that uses negative repetitions to speed up training...It's a complete body workout. The structure of the program forces you to be more conscious and focused about what you eat, how you exercise and the importance of proper sleep.

"

*

- Mark Roman, Palm Harbor

"I'm stronger and feel more toned. I've lost 30 pounds within 7 weeks and have dropped 7% body fat. When I first started the program I was on the last notch of my belt...now I'm fastening it on one of the tightest notches." *

- Doug Stovall, Palm Harbor

"

We had a goal of getting into a healthier lifestyle. Being professionals, time was important to us. The X-Force Body facility is very clean, and everyone is extremely friendly and positive-minded; it feels like family. 

It's been very important to have a personal coach. We completed the initial six-week program, and are now going in for a workout once a week. We look better, are eating healthier and are sleeping better. X-Force Body is a quality investment that brings results. - 

on wife Helen and his results

"

*

- Robert van der Putten, Clearwater

"I was looking for a program that would provide a full workout in minimal time to facilitate my comeback as a two-time cancer survivor. I participated recently in the "Ride Across Iowa," a cycling event which includes a 19,000-foot climb. I credit my X-Force Body training, particularly that involving my legs, for allowing me to complete that. My personal X-Force Body coach makes sure I'm doing things right, and for maximum benefit, providing a balance of proper conditioning." *

- Gene White, Palm Harbor

"I've lost nearly 40 pounds, but what I'm most proud of is that Illy has helped me change my habits and feel better overall. I enjoy going to our short workout sessions, and now think about what I eat and drink. It's been habit and life changing and Illy motivates me to keep it up by showing that she cares." *

- Gene Ramirez, Tampa

"Dr. Darden's unique negative training accentuated all my curves." *

- Ashley Meisner, age 22

"I lost 80 pounds in the first 80 days. It was unbelievable, absolutely unbelievable!" *

- Bob Smith, age 51

"Ever since I was a teenager, I've had these saddle bags on my upper thighs and hips. Nothing seemed to help. [Dr. Darden's] program, for the first time in my life, has allowed me to wear a bikini." *

- Julie Hill, age 62

"Those thick layers of fat on my waist just melted away." *

- Melissa Norman, age 42

"I lost 50 pounds of fat in 50 days. Afterward, my mother didn't recognize me." *

- Angel Rodriguez, age 48

"Now I feel full of life, flexible and strong. I'm married 43 years and my husband likes my new look. I feel sexy again. I feel pretty." *

- Katie Smith, age 60

"Dr. Darden's program changed my life. I eat healthier, I drink more water, I exercise harder, and I sleep better. I'm a new person with a brand-new body." *

- Erika Greene, age 33
*Results not typical. Individual results may vary.