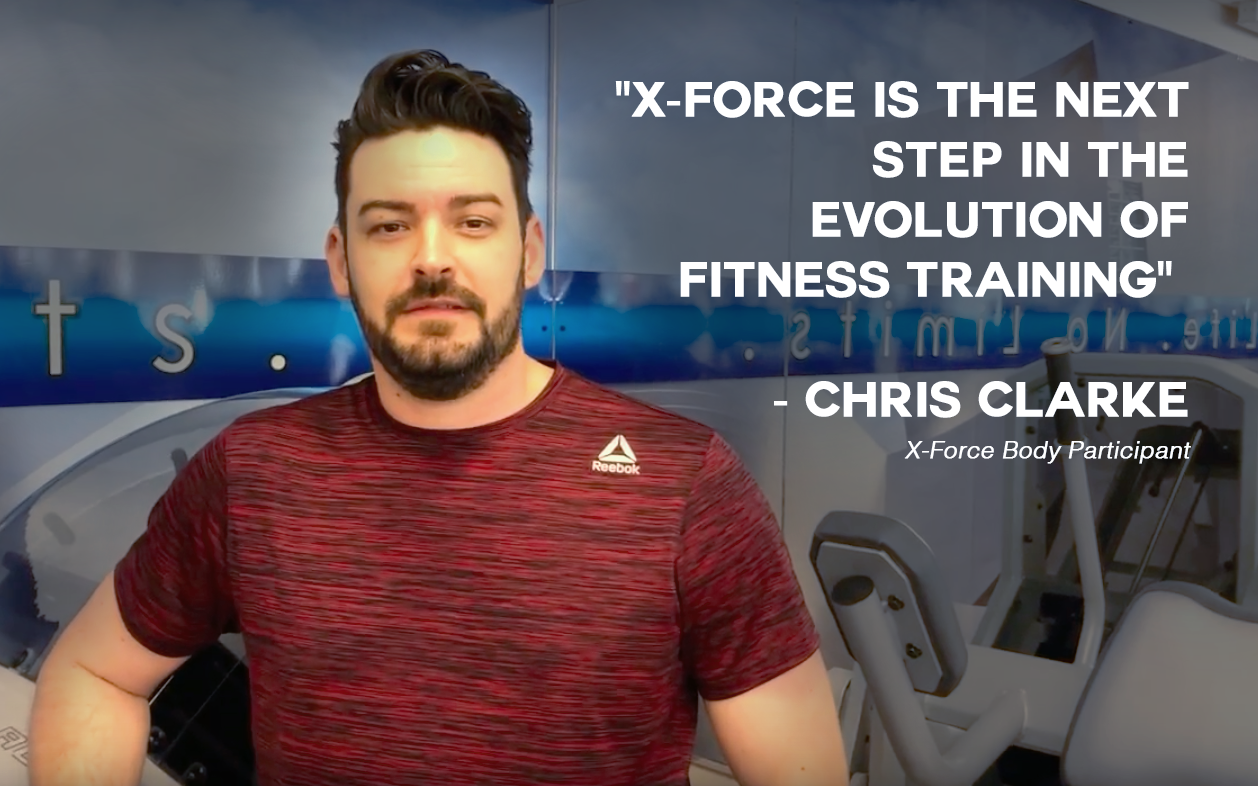 Chris is has been working out with the X-Force Body team for a little over a year. His job as a massage therapist required him to be physically fit. His job also leaves little time during the day to workout. X-Force has been a perfect fit for Chris. Learn more about his experience with X-Force in our question and answer piece below.
XFB: What do you love most about X-Force?
CC: It's a quick full body workout in 30 minutes. I rarely get so sweaty that I need to go home and take a shower so I can just get re-dressed and go back to work. What I like most about the machines is the technology. Because I'm a massage therapist, I can really appreciate the fact that on the negative or the way down, I'm using more muscle than I am on the positive. So because the weights get heavier on the way down, I can build muscle faster. I can actually train for less time and get even better results than if I were working out at a typical gym.
XFB: How has your experience at X-Force been different from other gyms you've gone to?
CC: The staff here is amazing. I am greeted every time I walk in the door. The locker rooms and bathrooms are always clean. I love the 3D body scanning because it allows me to see my progress in real time. It's definitely the next step in the evolution of fitness training.
XFB: What challenges you the most at X-Force?
CC: There's a workout called the push-pull. And as much as I hate it, it does wonders for me. In this specific workout, you're actually going to do almost all the machines in one day. Typically, you only do half the machines. In the push-pull, you're going to get less of a break, and a more intense workout. I don't look forward to that workout but it progresses me so fast that I know it's good for me and at the end of the day I do like it.
XFB: Why would you recommend X-Force to someone?
Because of the technology and the machines, you're going to gain muscle faster and burn fat faster. On the door, it says "lose weight in no time," and that's a very accurate statement simply because of the technology that's driving the fitness program they have here.
XFB: Has this been the most time-efficient workout for you
Absolutely, I don't sweat like a pig so I don't have to go home and shower. I can just change back into my regular work clothes. And because the workout is only 30 minutes, I don't have to feel rushed to get back to the office.
XFB: Which coach motivates you the most?
CC: I love how positive Illy always is. She always has a bright smile on her face and words of encouragement. Her infectious energy keeps me driven and motivated to keep working hard.
Take the first step.
Complete the form and one of our coaches will contact you to talk about your fat-loss goals and schedule your FREE workout!
No obligations, No pressure. Ever.
Try X-Force Body one time and you'll see why we're the ONLY choice for rapid, sustainable (and FUN) fat loss.
"I feel stronger. I sleep better. My eating habits have completely changed. I have a lot of energy. I was also taking thyroid medications when I started. Since then, I'm down to half of the medications I was taking." *

Maria Torri, Palm Harbor
Attend an upcoming Discovery Session and learn more about the X-Force Body Program!
Who's X-Force Body?
Busy people don't have time to waste on exercise that doesn't work. At X-Force Body, our mission is to inspire you to become leaner, stronger and healthier so you can live your best life. We deliver 30-minute strength workouts, twice per week with an expert coach. We will help you look and feel your best in a fraction of the time.
We are driven to help others create the freedom to be who they want to be, while becoming healthier, happier and more confident. Learn More.
Recent Posts