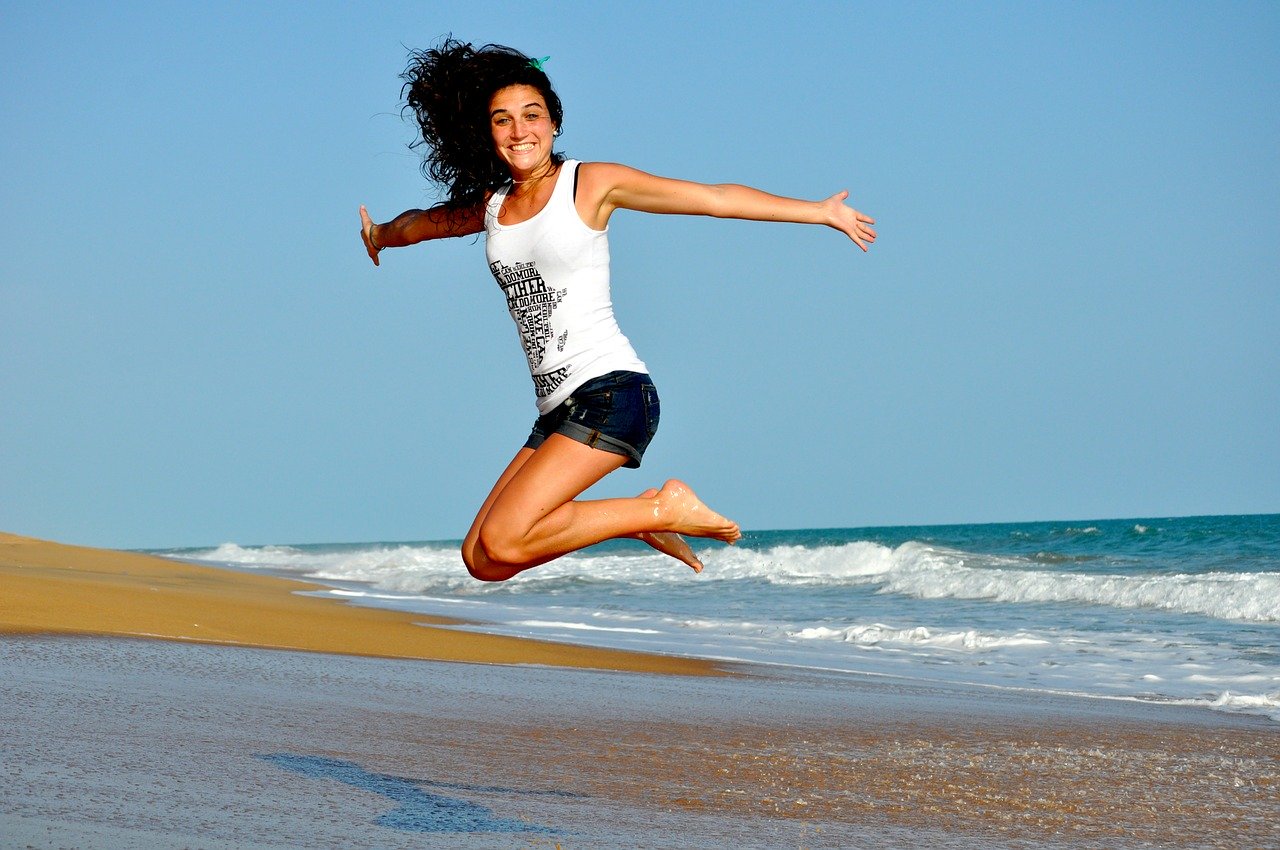 If you want proof that the X-Force Body program works, look no further. We've gathered just a few success stories from our Palm Harbor location. These are real people who've done the X-Force Body workouts and followed the program guidelines. *Results may vary.
Skip Alford, Palm Harbor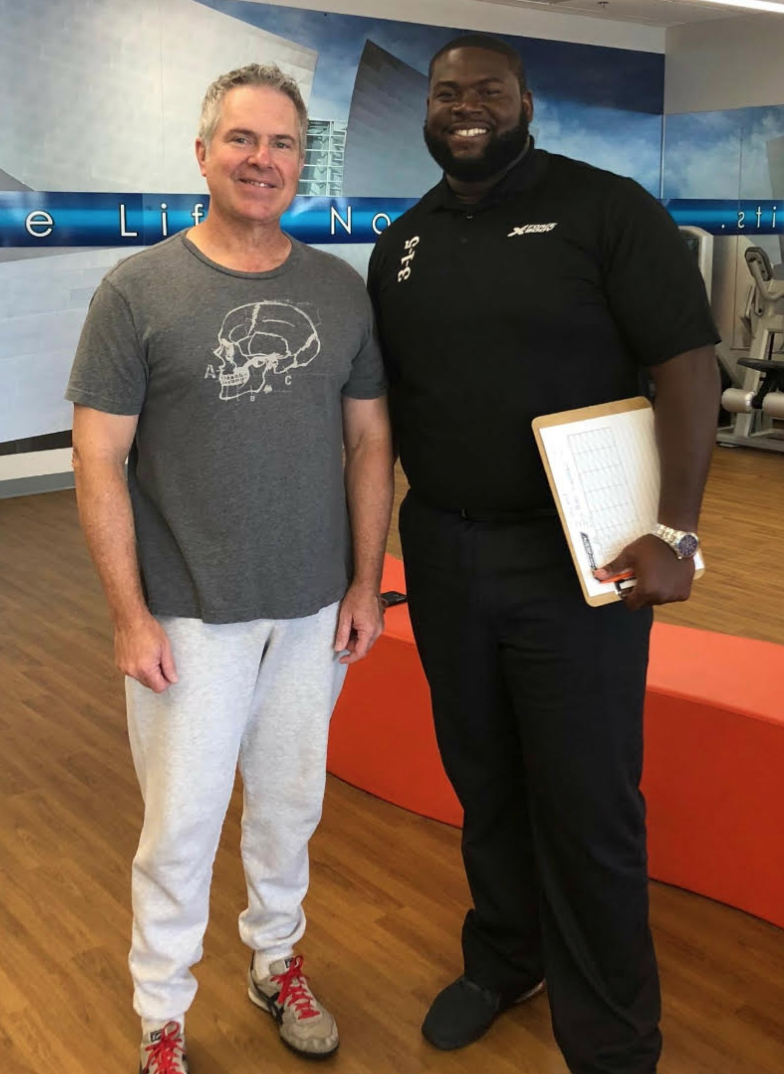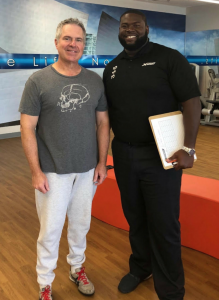 It was a serendipitous meeting.
A little over a year ago, Skip Alford joined the Greater Palm Harbor Area Chamber of Commerce as President & CEO. He recalls being at a Chamber function and meeting Illy Stoilova, Co-Founder and Director of X-Force Body:
"As she explained the X-Force program, I mentioned that I had had an ATV accident that had resulted in serious ligament damage, and that I had gone through physical therapy," says Alford. "Illy said I needed to strengthen my legs and get on a good diet for proper healing. I agreed and joined the program."
As he progressed through his twice-weekly, 30-minute workouts, Alford said he could feel his legs getting stronger using the 3-1-5 lifting/lowering method.
"I had no pain," he remembers. "Everything is smooth and controlled. The beauty of it is that, just as with physical therapy, you have a personal coach there making sure you do the right thing. After 20 years in the military. I finally had a workout where someone was there helping me."
"At age 58," Alford continues, "I just leg-pressed 500 lbs. seven times for the first time in my life. My legs are stronger now than they've ever been."
Alford says his initial goal was to get to 195 lbs. He says he's 200 now, and his waist has decreased to 32″. He says his ultimate goal is to leg-press the entire machine.
"Illy has a 5-lb. blob of fat that she brings out and takes a picture of with you whenever you lose five pounds," Alford says. "It's a graphic way to show that it's possible to lose fat while making sure the muscle you gain is solid."
"The diet has been easy to follow," says Alford. "I gave up soda and sweets. It's been an incredible benefit to me. My clothes fit better."
"You get what you pay for," continues Alford. "X-Force Body is what you do if you really care about your body. It's better than anything I've ever done in weight rooms or fitness centers."
And all due to a chance encounter.
Donte'e Nicholls, Tampa
Former Tampa Bay Buccaneers defensive tackle, Donte'e Nicholls wasn't feeling at the top of his game. "I'd been to fitness centers, but just wasn't feeling like I was making progress," says Donte'e. "I was looking to lose some weight, but didn't want to take so much time out of my day. Also, my motivation level was down." Finding X-Force Body turned out to be a real game-changer." What used to take me 3-4 hours in the gym was done in 30 minutes," says Donte. "After my first workout, I was amazed."
He's already lost 11 pounds during his first three weeks in the program, and expects that to increase once he's fully adjusted to getting extra sleep and fulfilling the daily hydration requirement. According to Donte'e, "I walk all day at work and also coach high school football, so I'm able to use that activity to supplement my X-Force Body workouts."
He says his friends – especially those he hasn't seen in a while – are noticing the positive changes. "I've been able to tighten my belt by two notches," says Donte. He's also happy that his former football knee injury isn't impacted by his X-Force Body workouts.
In addition to the time-saving workouts, Donte'e also values his X-Force Body coach. "It's a special, one-on-one relationship. It makes you feel like home. That's hard to find at a traditional gym." Which, for Donte'e, makes X-Force Body a true win-win.
Dr. Julie Claar, Palm Harbor
Back in early 2016, radiologist Julie Claar, M.D., was concerned that she had little muscle mass and, at age 53, felt her metabolism was plummeting. "I'd tried everything," says Dr. Claar in terms of fitness programs, "but they just weren't for me. As a radiologist, I regularly see compression fractures in women caused by osteoporosis and didn't want that to be me."
Then, she saw a news story about X-Force Body by Gene Ramirez on WFLA/NewsChannel 8 and decided to check into the program. "There's lots of science backing up negative-resistance training," says Dr. Claar. "I've gained muscle mass, and it's changed the shape of my body." She says she's lost 10 lbs., and has kept it off. "Everything in my closet fits."
Dr. Claar says she really appreciates having just two, 30-minute workouts per week. "X-Force Body is such an efficient workout," she says. "I go in at 6:30 a.m. and head right to the hospital afterward, with no need to go back home and shower first."
Dr. Claar's 13-year-old twins keep her on the move, and she supplements her X-Force Body workouts with frequent walking. "I've referred several of my best friends to X-Force Body," she says. "They notice a difference in you, and they ask what you're doing. They're all professionals with busy schedules, and have had success with the program."
Dr. Claar says she also appreciates the X-Force Body coaches. "X-Force Body has become a second family to me. It's my lifestyle now." Just what the doctor ordered.
Dr. Ashleigh Swope, St. Petersburg
Dr. Ashleigh Swope, a recent pharmacy school graduate and current hospital clinical pharmacist, spent most of the past four years in class, studying, and on clinical rotations.
Her highly-unpredictable schedule made it difficult to get regular exercise and eat right; the various pharmacies where she worked always seemed to be stocked with donuts, pizza, and other unhealthy snack foods, which resulted in weight-gain.
At nearly 6′, her extra weight wasn't really noticeable; however, once she starting working–and got on a more predictable schedule–she was determined to pursue her goal of losing 35-40 pounds, gaining strength and toning up. "I was uncomfortable in my clothes, and felt tired," she said.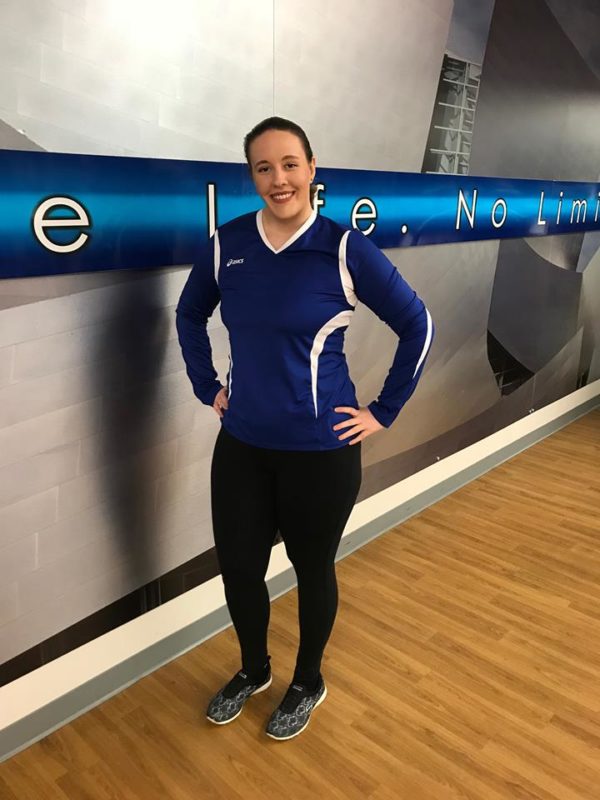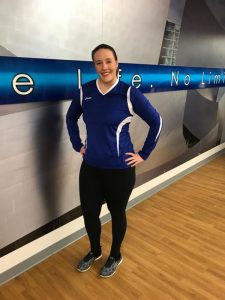 "I wasn't just looking to diet, and I wanted to start exercising to overcome years of a sedentary lifestyle without spending lots of time in a gym."
After hearing about X-Force Body, Ashleigh researched the elements of the program and was convinced it would work for her. "
As a pharmacist, I'm used to thoroughly researching and measuring things, so putting together meals and snacks that adhere to the program's dietary guidelines has been easy," she says.
"There are a number of pre-made dinners that fit perfectly, can be prepared quickly, and are very good-tasting. Also, using no-calorie spices are a great way to make fewer calories seem more satisfying. In addition, I enjoy drinking a bowl of matcha green tea to boost my metabolism right before my nightly walk."
Ashleigh recently reached her first interim 10-pound weight-loss goal, and says she's also noticed other positive changes. "My shape is changing. Many of my clothes fit much better, I feel considerably stronger, and am sleeping better," she says. "It's important not to just focus on the scale. I'm building muscle, which you can't do by just dieting."
Ashleigh says she also likes the personal attention and motivation provided by her X-Force Body coach, Jacob Rymar. "Jacob knows how hard to push me to make sure I'm getting results," she says. "I've been steadily increasing the weight on each machine, and I can feel a noticeable increase in strength." Finally, she says she appreciates the efficiency of the program, and how the two, 30-minute workout sessions per week are fitting into her still-changeable schedule. "As far as I'm concerned," says Ashleigh, "X-Force Body's just the right prescription."
Robin Elam, Palm Harbor
It was those last 10 pounds. Robin Elam, a physical therapist, had tried several diets and programs over about a 10-year period, but she just couldn't seem to lose the last 10 pounds she wanted to shed. "My BMI was right in the middle. I was running several times a week, but nothing was happening," said Robin.
A neuro-radiologist friend who had started X-Force Body told Robin about the program. "It totally made sense," says Robin. I checked it out. The theory was sound; I'd never seen machines like that. From my profession, I knew that eccentric training does the most good."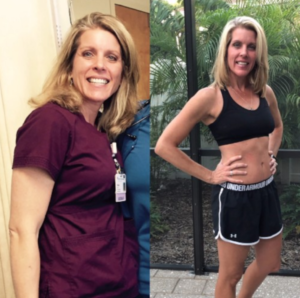 (Editor's Note: Eccentric–as opposed to concentric–training allows you to push your muscles past their normal point of failure. This negative-resistance technique allows you to lift 30 to 40 percent more weight than you could otherwise, making workouts more efficient and producing faster results.)
"I'm not a big person," says Robin. "My goal in joining X-Force Body was to lean-up, have a six-pack, lean legs and no love handles."
Robin says X-Force Body has jump-started her metabolism. "My weakness was late-night snacks," according to Robin. "I'm now eating healthy amounts of protein, carbs and fat, although I still allow myself a piece of chocolate now and then. I've cut out soda and am drinking lots of water; in fact, I now crave water and my skin is better. I make sure to drink water before my workouts."
Robin says the thing she likes most about the X-Force Body program is that it requires just two, 30-minute workout sessions per week. "I come in for my workouts at 6 a.m. It's so efficient that I don't sweat to death, as at a gym; I don't even have to shower afterward," she says.
"I get cardio, as well. I walk 30 minutes a day, and still run one day a week." Robin echoes the sentiment of many X-Force Body members: time is money. "I could be at work making money, or spending hours at a gym and wasting it," she says. "I'd rather be efficient. With X-Force Body, you get your money's worth in the least amount of time."
Robin also likes the personal coaches at X-Force Body. "They encourage you," she says, "They make sure you're getting the most efficient workout possible, keep up with how you're progressing, encouraging and reminding you to get extra sleep and do the other things to stay on-track with the program."
In terms of results, Robin says she's lost 2″ in her waist, gained muscle and her body composition has totally changed, making clothes fit much better. Also, she says her husband thinks she looks better now than she ever has.
"X-Force Body is a quick-fix," says Robin. "If there's one thing you can do for yourself to get healthy, this is it."
Rosario Jones, Palm Harbor
Rosario Jones said she reached the point last spring where she needed to feel better in her own skin. Then, she saw a news story about X-Force Body by Gene Ramirez on WFLA/NewsChannel 8.
"It was meant to be," said Rosario. She attended a Discovery Session led by X-Force Body Director Illy Stoilova, and decided to sign up.
She lost 10 pounds initially, and saw improved muscle-definition. She's since gone on to lose nearly 35 pounds. In addition to weight loss, an important goal for Rosario was to be able to reduce the dosage of her blood-pressure medication, or to stop taking it completely.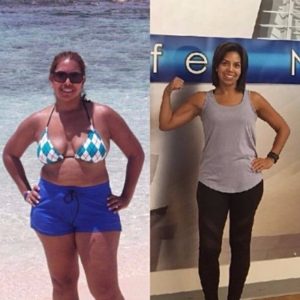 Once her physician saw her weight loss progress — and that she was maintaining her new weight — she reduced Rosario's medication dosage. In addition, the physician said she wants to recommend the X-Force Body program to additional patients.
Before joining X-Force Body, Rosario said she spent hours in the gym. She lost weight, but regained it.
Rosario says the twice-weekly, 30-minute workouts fit perfectly with her schedule. She completes them in the morning, before work, and says they get her energized for the day.
Rosario credits her success with the X-Force Body program with allowing her to become more active. For the first six months, she did only the twice-weekly workouts, then started running. She ran her first Gasparilla 5K this past February. "The team Illy has–it's like a family in there," Rosario says of the X-Force Body studio. "There's a warmth there that's not like the gyms. My coach knows how hard to push me and how to motivate me."
Rosario says when she tells others about X-Force Body, she shares her results and stresses the fact that it takes discipline. "I tell them that it's the right combination of activity, hydration and getting the rest you need," she says. "You're able to track your intake."
For Rosario, the real measure of her X-Force Body success came recently when she passed by some co-workers she hadn't seen in a while. They told her they didn't recognize her. It was meant to be.
Doug Stovall, Palm Harbor
Doug Stovall's X-Force Body journey began at the first of this year, when he saw billboard on U.S. 19 advertising the program. The belt he was wearing at the time was at the last notch. "I'd done Crossfit for several years, and got hurt," says Doug. "I was looking for something more structured."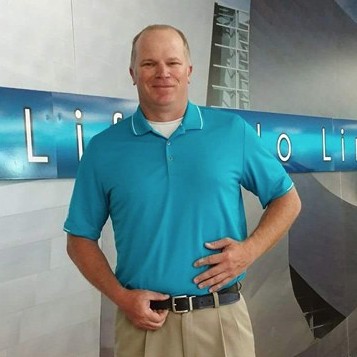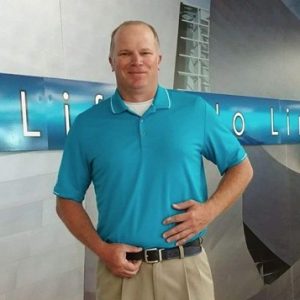 Doug and his wife had just welcomed a new baby shortly before he started the program in February. He made good progress, losing 30 lbs. within the first 6-7 weeks. By the end of 12 weeks, he'd dropped 6-7% body fat.
"I was stronger and felt more toned," according to Doug, who says he's continuing to lose weight. He says he's been so pleased with his results, that he's referred three people to X-Force Body.
Doug also appreciates the convenience and efficiency afforded by X-Force Body, having gone to a traditional fitness center in the past. "The X-Force machines require just 8-12 reps to reach total fatigue," he says.
In addition to his twice-weekly workouts, Doug–who used to run 4-5 days a week–says he's switched to walking and attempts to get extra sleep, although having a newborn can make that challenging.
In addition to what he calls an "amazing" X-Force Body staff, he also values the diet plan and other available tools, which leads him to term the program "one of the easiest to follow." For Doug, there are several very visible reminders of his X-Force Body success: those four holes in his belt…
Mark Roman, Palm Harbor
As a successful, busy trial attorney, Mark Roman has no time to spend hours lifting weights in a gym. Instead, he and his wife, Carol-Lynn, enjoy the efficiency of performing their two, 30-minute weekly workout sessions together.
"The convenience is huge," says Mark, who was referred to X-Force Body by a physician-friend. "I'm impressed by the science behind X-Force and the technology of the equipment that uses negative repetitions to speed up training."
Mark certainly knows about training, having been a competitive body-builder and weight-lifter all of his adult life. He says his goals for joining X-Force Body have been a small amount of weight-loss, along with increasing strength and building muscle mass.
"It's a complete body workout," says Mark. "The structure of the program forces you to be more conscious and focused about what you eat, how you exercise and the importance of proper sleep."
Mark and Carol-Lynn supplement their X-Force Body workouts with weekly road-cycling and kayaking; Carol-Lynn also enjoys running. Mark says he feels a lot stronger after having completed six weeks of the X-Force Body program.
Finally, the two also give credit to their X-Force Body coaches for helping them reach their goals. "They're extremely competent," says Mark.
Sarah Haskins, Palm Harbor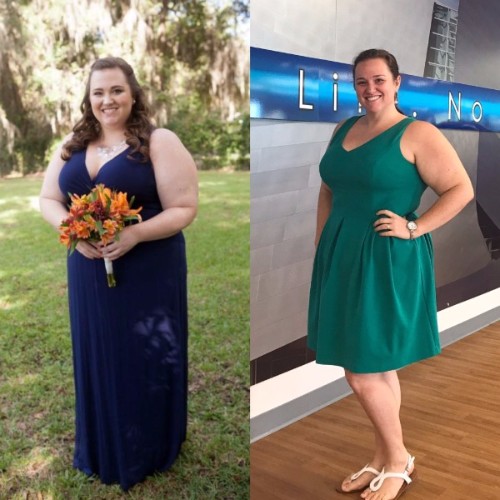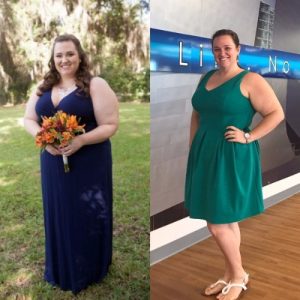 When Sarah Haskins walked into a BNI Business Connections meeting early last year, she had no idea it would have life-changing consequences.
She heard a brief presentation by Illy Stoilova, X-Force Body-Palm Harbor Co-Founder/Director, and decided to sign up for a Discovery Session to learn more about the program.
"I'd been gaining and losing weight my whole life," says Sarah. "I'd gone to several gyms and also employed a personal trainer. but it wasn't a whole system or a lifestyle change."
Sarah says her main goal in joining X-Force Body was to lose weight so she wouldn't feel tired all the time. She says she enjoys the convenience of the brief, twice-weekly workouts, and the fact that everything's systematized. "Probably the biggest challenge for me was meal preparation," says Sarah. "I like to cook, so I overcame that by finding recipes that matched the calorie requirements. I've also adjusted to eating small meals throughout the day."
Sarah's discipline has produced significant results: she's lost 70 pounds. "Even though I'd like to get down another dress size, I'm now much more toned than I was in high school; I look and feel better," she says. Sarah also credits her X-Force Body coach. "Be truthful with your coach. They'll talk with you not just about what weight you're lifting, but also about how to get more sleep and stick to your calories and goals. They make such a difference."
As for Sarah, her success with the X-Force Body program has her looking forward to another life-changing event, coming up in December… her wedding.
Take the first step.
Complete the form and one of our coaches will contact you to talk about your fat-loss goals and schedule your FREE workout!
No obligations, No pressure. Ever.
Try X-Force Body one time and you'll see why we're the ONLY choice for rapid, sustainable (and FUN) fat loss.
"I feel stronger. I sleep better. My eating habits have completely changed. I have a lot of energy. I was also taking thyroid medications when I started. Since then, I'm down to half of the medications I was taking." *

Maria Torri, Palm Harbor
Attend an upcoming Discovery Session and learn more about the X-Force Body Program!
Who's X-Force Body?
Busy people don't have time to waste on exercise that doesn't work. At X-Force Body, our mission is to inspire you to become leaner, stronger and healthier so you can live your best life. We deliver 30-minute strength workouts, twice per week with an expert coach. We will help you look and feel your best in a fraction of the time.
We are driven to help others create the freedom to be who they want to be, while becoming healthier, happier and more confident. Learn More.
Recent Posts